The theme of the ASI Scandinavia conference in 2013 was "Transforming Grace". Daniel Pedley, the graphic designer at LifeStyleTV, designed a beautiful backdrop depicting the Northern light (Aurora Borealis). This beautiful phenomenal in nature with its special light works as a wonderful illustration to the light that shines through the lives of people in Scandinavia serving God through love for others.  I was asked to write a theme song for the event and as I was sitting at the piano, trying to compose, I tried to remember the Scandinavian Northern lights I had seen some years earlier. Inspiring pictures can remind us about it but it does not compare to experiencing it for real. If you've seen it I hope you'll remember the experience by looking at the featured image in this post taken by my friend Heber Teixeira.
"See the lights across the Northern skies. Grace from God can melt the hearts of ice".
I had a clear idea for the message in the song – to describe the revival among young people I had seen during the last years in northern Europe – but I struggled with putting it into words all until the last days before the conference. During the travel up to Tyrifjord in Norway, where the conference was held, I worked on the lyrics in the car while getting input from my husband and feedback from our friend Rue that traveled with us. As we arrived the day before the meetings, I spent some good time in my room to look through the lyrics one final time. I felt that something was missing and I wasn't happy with one line in the chorus. By providens my friend Jonathan Karlsson looked in through the door just as I was working on that final line. I asked him for help – but everytime he came up with some words in our brainstorm I said – No, that's not it. We were struggling for quite a while before he suddenly said "eyes" but I thought he said "ice" so I immediately said – that's it! Hearts of ice to rime with northern skies felt perfect in my attempt to explain the power of the grace of God upon the human heart – that has been experienced by so many people in Scandinavia during the last years.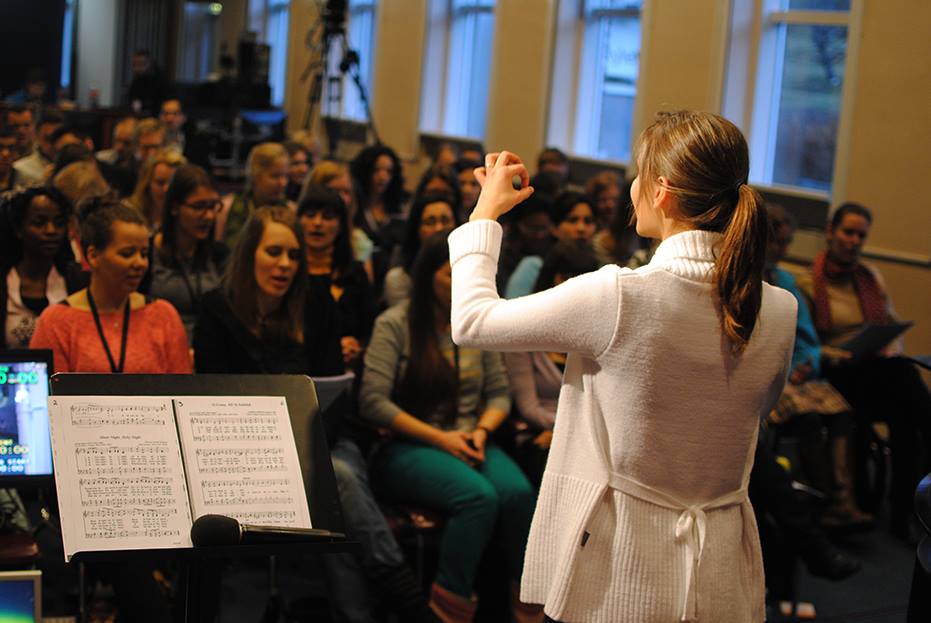 – Enjoy audio, lyrics and music sheets below  –
Listen to the performance track composition of Transforming grace:
Transforming Grace  – lyrics
Darkness covers the earth
People hide in the night
Still in hearts of the North
Burns the light of the Lord
We heard His voice when He rose from the grave
Now we are called to be brave

See the light across the Northern skies
Grace from God can melt the hearts of ice
Sin will fade away
We will never stand alone
We can trust in His transforming grace

Glory covers the earth
People long for the light
See the power of God
Rain from heaven above
Nations bow down to the Lamb on the hill
He shall the promise fulfill

See the light across the Northern skies
Grace from God can melt the hearts of ice
Sin will fade away
We will never stand alone
We can trust in His transforming grace

He sat down as our High Priest
Soon He'll stand as the King!
We shall see Him in glory
We will shine as we sing!

See the light across the Northern skies
Grace from God can melt the hearts of ice
Sin will fade away
We will never stand alone
We can trust in His transforming grace

(INSTRUMENTAL)

See the light across the Northern skies
Grace from God can melt the hearts of ice
Sin will fade away
We will never stand alone
We will never stand alone
We will never stand alone
We can trust in His transforming grace
Download music sheet here:
Related posts